Industrial Elevators, Construction Hoists, Material Hoists, Special Rack and Pinion solutions
Fraco Sweden AB is a swedish company with great knowledge from the vertical transport industry. Our product line includes industrial elevators, construction hoists, special rack and pinion vertical access solutions, material hoists and transport platforms.
At Fraco Sweden we provide our customers with safe and reliable state of the art products, together with good service. Besides our wide range of products, we can also customize solutions to meet our customers specific needs.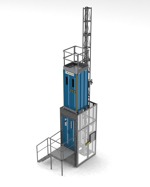 Fraco Sweden announces the newest member of the product family: Fraco SEL B
Skellefteå, Sweden, September 18, 2015 - Fraco Sweden AB announces the new permanent elevator range - SEL B. The new elevator range is designed to meet the special purpose norm ASME A17.1 section 5.7. but can also be delivered according to ASME A17.1 section 4.1 as well as EN81.
The elevator range is designed with the machinery placed on the backframe of the car instead of a top drive machinery. Thanks to the placement of the machinery, the elevator model is well suited for applications where the overhead space is limited.
The base unit is delivered with a hot dip galvanized base enclosure and painted elevator car panels as a standard. Stainless steel panels are available as option.
The capacity of the elevator range starts at 400 kg and reaches a max capacity of 1000 kg.
For more information, technical description, or quotation
please contact us at Fraco Sweden AB

Fraco Sweden: a new Swedish-Canadian partnership
The Quebec manufacturer steps into the arena of construction elevators and industrial lifts.
St-Mathias-sur-Richelieu, Quebec, November 19, 2012 – Canadian manufacturer of mast climbing work platforms, Fraco Products Ltd, and its President Mr. Armand Rainville recently concluded an agreement with Mr. Krister Kempainen regarding the manufacturing in North America for construction elevators and industrial lifts.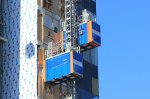 Fraco takes good care of CHUM-RC
The hoist manufacturer increases speed in construction of Montreal research centre
St-Mathias-sur-Richelieu, Quebec, November 26, 2012 – Fraco Products Ltd has launched its new range of construction elevators, the SEH Series. This operation was performed within the construction of the Research Centre of the Centre hospitalier de l'Universite de Montreal (CHUM-RC).
The CHUM-RC is the first phase in the redevelopment of the Centre hospitalier de l'Universite de Montreal. The new campus will be relocated in front of the Research Centre and will be fully integrated to the latter. The Research Centre consists of two towers of 16 and 6 floors with a surface area of approximately 68 800 m2. The project should be completed in September 2013.

To read more, please click here